Amsterdam as seen by Jacob Olie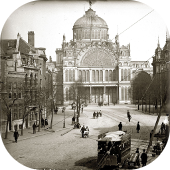 Jacob Olie (1834-1905) recorded Amsterdam as it developed during the second half of the 19th century. This app contains over 1200 of his photographs.
Olie was immediately fascinated by the new medium when he first saw photos. He soon started experimenting by himself. He built his own camera and used it to take photos in the area where he lived and wherever he could set up his equipment. That was in the 1860s.
After a few years he abandoned photography in order to focus on his professional career. He was a teacher at the local vocational school, and would soon become its principal. After retiring, he picked up his old hobby in 1890.
The city had undergone many changes by then. Central Station and Rijksmuseum had been built, the North Sea Canal had opened up Amsterdam's ports for modern steamers, the economy flourished, and outside the old city walls new neighbourhoods were being erected.
Jacob Olie's photos present a comprehensive view of Amsterdam during its second Golden Age.
In the app the photos are shown in chronological order. They're all linked to a location; all locations are shown on an interactive map. The photos are also linked and accessible through keyword tags.
for iPhone, iPad and iPod with a recent version of iOS.

for smartphones and tablets with a recent version of Android.